My wife and children left me… temporarily. For the next five days, I'll be a giant can of Fun-Be-Gone® Spray. I'm sequestering myself to finish the second book. It's at 86,000 words and counting. Parts of it need fleshed out, and parts of it need cut. Last night, I could have worked on it but instead found these ten quotes about writing. That, in and of itself, should tell you all you need to know.
My good friend Adam inspired this idea by sharing Dorothy Parker's quote that leads us off. Rarely does a day go by when I don't meet someone who tells me he has a great idea for a book or that she ought to blog.
Yes, I know the feeling.
(If you're interested, you can get any of these chalkboard quotes as wallpaper for your computer's desktop by clicking on its image below. A larger, higher-resolution version will open in a new window for you.)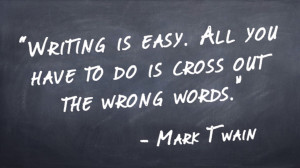 The End