It's company policy around here to take your birthday off. This is no easy task for our head of message development, Ryan Patrick. He is so dedicated to his clients and his company that he struggles taking time off. He's loyal, dutiful, honorable, and he's one of the few people in this world I'd trust with my children AND my video game collection knowing both would be in good hands.
HERE! Perfect example of his annoying sense of honor. WHILE I'M TYPING THIS (the afternoon before his birthday), he gets our present. Does he rip it open as we would all do… ohhhhhh nooooo… look at this:
I'm not alone in being fully annoyed by his virtually limitless awesomeness. I posted this on Facebook a few days ago and blocked him from seeing it. A trick, I believe, I learned from him when he was doing something selfless for his wife.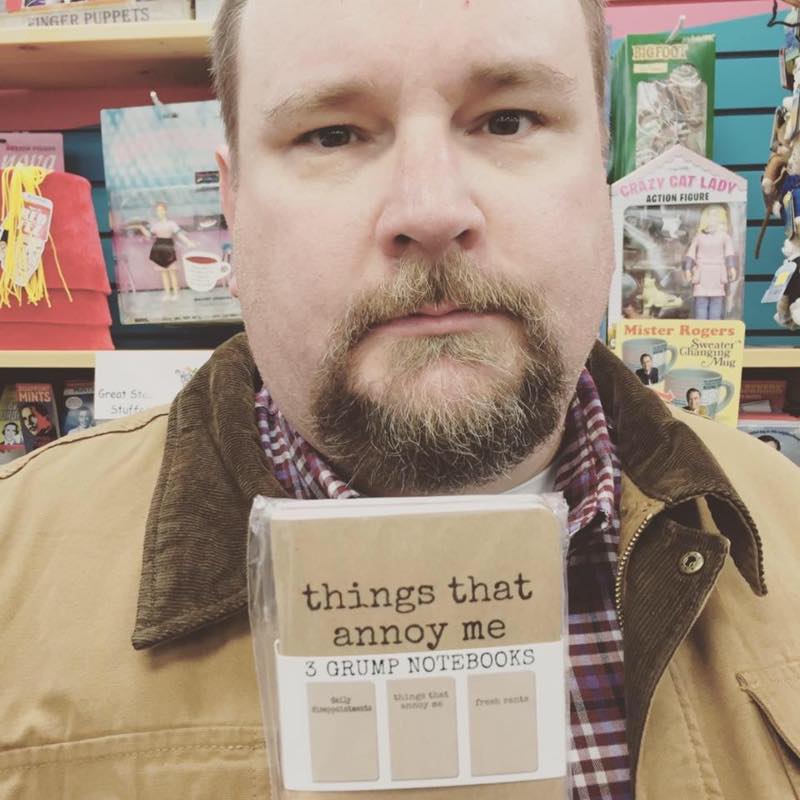 Friends Except for Ryan Patrick! What's your favorite thing about him? I've blocked him from this post, and I want to do a thing on his birthday on our website at the end of the month.
Now, I've removed the names from the posters. Why? Three reasons:
They know who they are.
Sadistically speaking, it's way more fun for me to leave Ryan wondering who wrote what.
I think it's more fun for you. Read through these comments and try imagining a best friend this awesome.
From experience, his other friends and I can tell you: It is this awesome.
---
My favorite thing is that he is a old-time radio show geek like me, and that he'll always be 39 years old.
Sense of humor
I would say his SHARP wit and amazing recall is what stands out the most to me.
The fact that he is annoyingly dependable. If he says he is going to do something – it gets done.
Sarcasm & wit. I genuinely appreciate it.
I will reaffirm what is said here, his wit and ability to find humor in situations. Also that he didn't unfriend me when I hugged him at Impractical Jokers.
He is a good decision-maker, even though I hate it when he is right.
He is sharp witted and snarky, which I love, his talent (speaking/acting/writing) and how social he is although he is an introvert. How irritated he gets when he is involved with any type of construction or home improvement projects – that's actually really funny!
All around stand up guy, and he loves baseball
Best dad ever.
His full moon feverish love of the Cardinals.
A true friend, his love of the cardinals, and most importantly: his eternal optimism 
GREAT at creating band names.
Actor extraordinaire and one of my favorite curmudgeons.
He can mug to a camera like no one else.
He is expert at pretending to be a curmudgeon
His FB levity reads well and makes me smile
Fierce, loving loyalty to his friends. Family goes without saying.
I feel privileged to have witnessed the depth of his compassion for others.
He loves his kids and will do anything for them.
He's kind, calm, and has a fun personality. He makes the world a better place.
What is not to like about Ryan! One amazing guy! Great friend, very funny, intelligent, loved seeing him in plays!
He called me annoyingly optimistic once. And he's right!
Tie between his sense of humor and his big heart
Best improv guy that ever was:)
Of course his sense of humor, but his sincerity and his dedication to God and his family are to be admired.
I really admire the fact that he's been an undercover agent for the FBI all these years, and NO one knows! Not a single soul. That's an amazing accomplishment. I can only assume he will continue to fly under everyone's radar for years to come. …oh, and don't mention it to anyone.
Hilarious! And super kind heart.
I love that he is a roller skating champion and one-upper in owning the Annie soundtrack (I'm still bitter). He can also throw an impromptu telethon like nobody's business. Oh and it's hard not to mention his self painted magical trenchcoat that got him all the dates in high school. I have some pics, when I get home I'll send them:). Also love that he is loyal and amazing. He's a great guy to always have in your corner!!
He is an amazing gift-giver, he takes the time to somehow find the coolest stuff specifically for you.
Ryan finds the humor in stuff that everyone else misses. He's never been worried about making a fool out of himself to make others smile, he Loves the Lord, he loves to educate, entertain, and encourage others. But most of all, I love his transparency. For someone who has spent so much time acting like someone else, he is amazingly authentic.
He was all smiles after I snagged us VIP tickets to a Sugarland concert as a surprise. We hit a Cubs game at Wrigley that day, and Jennifer Nettles' rendition of the national anthem brought him to tears.
He lets me call him "My son from another Mother ".
He makes me laugh. Every. Single. Time.
In one word – Everything!
Thoughtful gift giver!
His love for family with humble passion for the things he does.
---
It's all true, pal. For those of you who don't know him, I hope you've got a Ryan Patrick in your life, too.
I'm just sorry I couldn't find video of Jennifer Nettles singing happy birthday.